Three country No. 1 albums dating from 1967, 1968 and 1970 from the legendary Merle Haggard'Okie' made the US Pop charts, spending a year on them, with the single of the same name being a Top 50 hit. 'Okie' was a career-changer for Haggard; for the next five years, he was the biggest country star in the US. Merle Haggard featured in the country music charts for an astonishing 40 years. Digitally remastered and slipcased, and with extensive new notes
Three country No. 1 albums dating from 1967, 1968 and 1970 from the legendary Merle Haggard'Okie' made the US Pop charts, spending a year on them, with the single of the same name being a Top 50 hit. 'Okie' was a career-changer for Haggard; for the next five years, he was the biggest country star in the US. Merle Haggard featured in the country music charts for an astonishing 40 years. Digitally remastered and slipcased, and with extensive new notes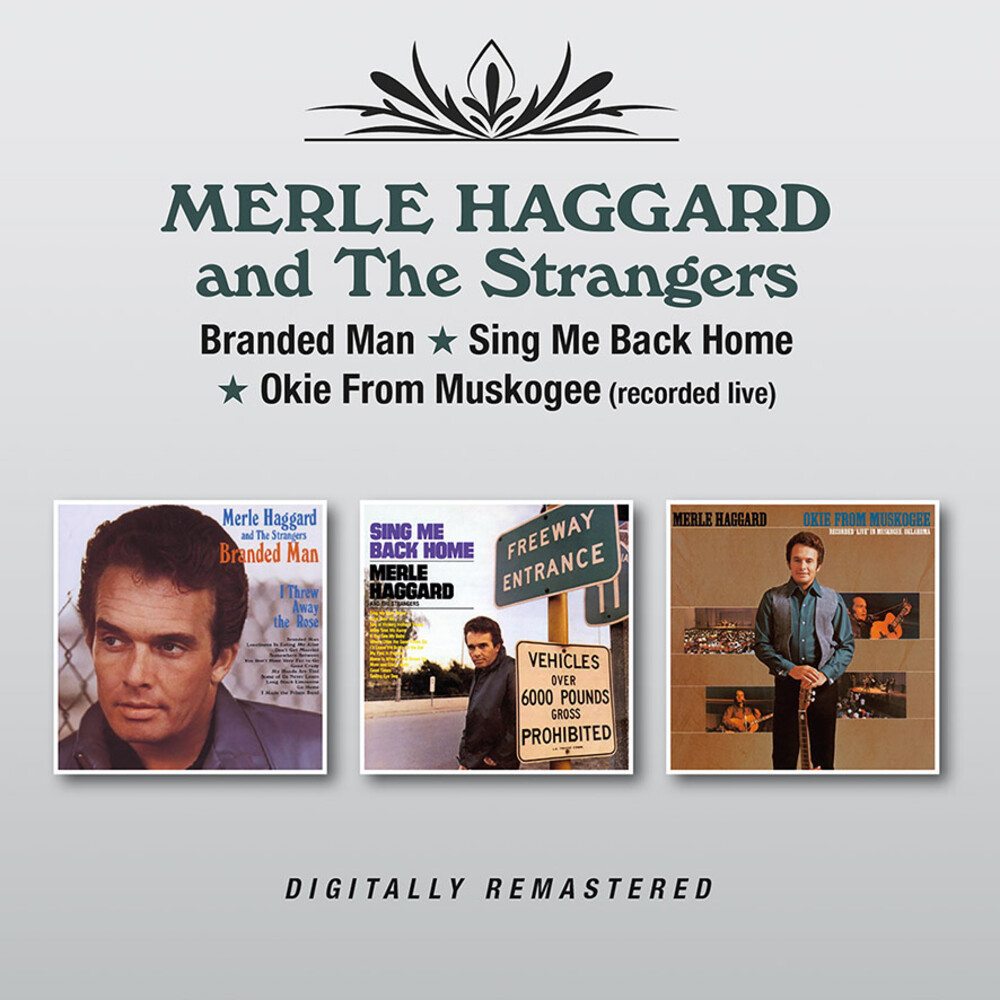 Branded Man / Sing Me Back Home / Okie From (Uk)
Artist:
Merle Haggard & The Strangers
Format:
CD
New:
Available online or call for in-store availability
$22.99
Wish
Formats and Editions
1. Branded Man
2. Loneliness Is Eating Me Alive
3. Don't Get Married
4. Somewhere Between
5. You Don't Have Very Far to Go
6. Gone Crazy
7. I Threw Away the Rose
8. My Hands Are Tied
9. Some of Us Never Learn
10. Long Black Limousine
11. Go Home
12. I Made the Prison Band
13. Sing Me Back Home
14. Look Over Me
15. The Son of Hickory Holler's Tramp
16. Wine Take Me Away
17. If You See My Baby
18. Where Does the Good Times Go
19. I'll Leave the Bottle on the Bar
20. My Past Is Present
21. Home Is Where a Kid Grows Up
22. Mom and Dad's Waltz
23. Good Times
24. Seeing Eye Dog
25. Opening Introduction ; Theme
26. Mama Tried
27. No Hard Times
28. Silver Wings
29. Medley: Swinging Doors/I'm a Lonesome Fugitive/Sing Me Back Home/Branded Man
30. In the Arms of Love
31. Workin' Man Blues
32. Introduction to "Hobo Bill"
33. Hobo Bill's Last Ride
34. Billy Overcame His Size
35. If I Had Left It Up to You
36. White Line Fever
37. Blue Rock
38. Okie from Muskogee
More Info:
Three country No. 1 albums dating from 1967, 1968 and 1970 from the legendary Merle Haggard'Okie' made the US Pop charts, spending a year on them, with the single of the same name being a Top 50 hit. 'Okie' was a career-changer for Haggard; for the next five years, he was the biggest country star in the US. Merle Haggard featured in the country music charts for an astonishing 40 years. Digitally remastered and slipcased, and with extensive new notes